---
Battleship MAINE
Her final resting places - Part 2
---
Please Visit our Home Page to learn more about the Spanish American War
---
Click here for MAINE's final resting places, part 1

---
The MAINE's foremast has been removed to the seawall at the U.S. Naval Academy at Annapolis, Maryland. (Photo courtesy of Ken Brooks)

---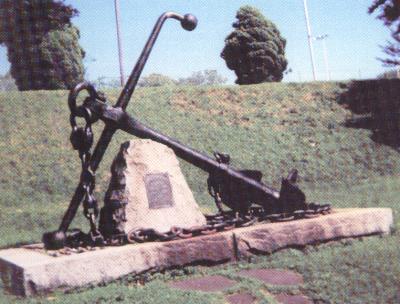 An anchor from the MAINE in Reading, PA (photo from Richard A. Sauers, Pennsylvania in the Spanish American War, Harrisburg: Pennsylvania Capitol Preservation Committee, 1998, p 42.) We have learned from Félix Alfonso Peña that the anchor is now located at d on the western edge of Reading's City Park, on the first block of North 11th Street.
---


This is one of the MAINE's 6 inch guns in the town of Alpena, Michigan. It was brought to the town through the efforts of Congressman George Loud, who had served on the U.S. Revenue Cutter McCULLOCH at the Battle of Manila Bay (photos and info. contributed by Dale and Kay Arsenaeu)
---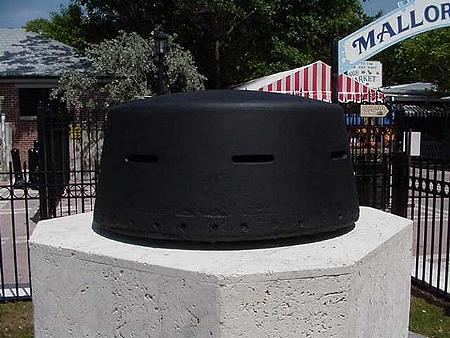 One of MAINE's 10" turret sighting hoods is located at a newly built War Memorial located on the western portion of Key West known as Mallory Square. It was formerly located at the Key West Post Office.
---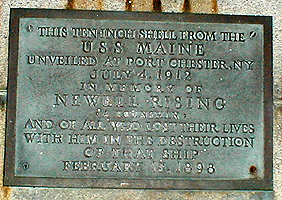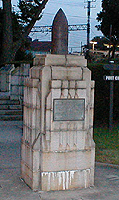 This is an image of a monument and plaque in Summerfield Park, at the corner of Willett and King Streets in Port Chester, New York. The monument is surmounted by a 10 inch shell recovered from the wreck of the MAINE. The plaque reads:
THIS TEN-INCH SHELL FROM THE
USS MAINE
UNVEILED AT PORT CHESTER, NY
JULY 4, 1912
IN MEMORY OF NEWELL RISING
A TOWNSMAN
AND OF ALL WHO LOST THEIR LIVES
WITH HIM IN THE DESTRUCTION
OF THAT SHIP
FEBRUARY 15, 1898
Newell Rising was a coal passer aboard the MAINE and did not survive the explosion.

---
A ten inch shell to the ten inch shell from the battleship U.S.S. MAINE located in Point Defiance Park, Tacoma, WA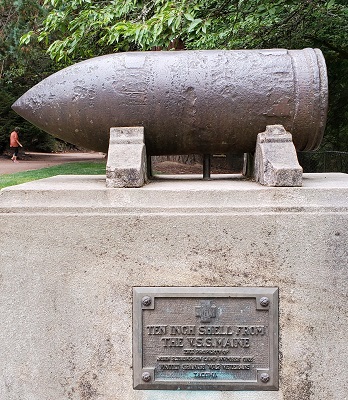 ---

A key fob made from metal from the USS MAINE (image contributed by John Blow)
---
For more MAINE artifacts, click here!
---
Support this Site by Visiting the Website Store! (help us defray costs!)
---
We are providing the following service for our readers. If you are interested in books, videos, CD's etc. related to the Spanish American War, simply type in "Spanish American War" as the keyword and click on "go" to get a list of titles available through Amazon.com.
---
Visit Main Page for copyright data