---
Spanish Gunboat Elcano
By Jose Poncet
---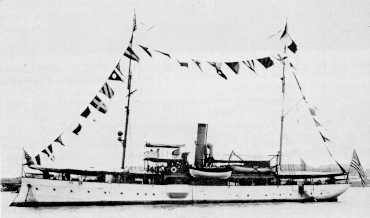 The Spanish Gunboay Elcano in full dress
---
Please Visit our Home Page to learn more about the Spanish American War
---
To read Admiral Montojo's report of the Battle of Cavite/Manila Bay, click here
---
GENERAL:
The ELCANO's most famous appearance in the Spanish American War records is actually a mistake! She is often listed as having been burned at the Battle of Manila Bay, though she was not present. Her most significant was action was her capture of the American frigate SAVANAH, loaded with 1,640 tons of coal.
BACKGROUND:
In 1881, a naval plan intended to reinforce the Spanish Navy was presented to the Spanish Government. Among other proposals, the plan included the construction of the ELCANO. This plan was initiated with the visit of the King and the Queen of Spain to Cadiz in 1882 in order to attend to the keel laying of the ELCANO and her sister ship MAGALLANES. These boats were classified as 3rd-class cruisers but, in reality, they were not more than modest 1st-class gunboats. These ships were similar to the GENERAL DE LA CONCHA, that was being equipped at the Ferrol Arsenal to be sent to the Antilles, and to the GENERAL LEZO that was in the shipyard at the Cartagena Arsenal, which would be sent to the Philippines.
On September 26, 1886 the ELCANO arrived in Manila. By that time, the GENERAL LEZO was already in Philippine's waters. The ELCANO was assigned to the South Division of the Spanish Asiatic Fleet, with her base in Jolo while the GENERAL LEZO had her base in Cavite.
Between May and August of 1891, the captain-general of the Philippines, Weyler, (later captain-general of Cuba), ordered a series of military operations in order to insure the links between the fortified posts and to establish other posts in the Laguna de Lanao, (central part of Mindanao Island), and in the controlled corridor in the region of Tukura. Because of this, the Illane Bay became the operations center. In these operations, the DON ANTONIO DE ULLOA, the "avisos", GENERAL LEZO and ELCANO, the transports CEBU, SAN QUINTIN and MANILA, as well as some other gunboats were all going to take part. All these warships would protect the amphibious assault landing of the Spanish troops that would occupy Maladi on May 28, 1891, and Malabang one day later.
On November 6, 1896, the ELCANO suffered an important damage while she was navigating nearby Iligan and Manila. She went ground at the coast and lost one of her propellers. Later the ELCANO was refloated and continued her trip under sail.
On April 28, 1898, the gunboat ELCANO became famous since she captured the American frigate SAVANAH when the SAVANAH was steaming was a load of 1,640 tons of coal from Australia.
When Dewey's squadron attacked Manila, the ELCANO was at Ilo Ilo. She was the only Spanish boat in the Philippines that, in December of 1898, had the possibility, together with the transport ALAVA and the gunboats QUIROS and VILLALOBOS, of returning to Spain.
The Spanish Government decided to sell the ELCANO to the United States. She was renamed as P-30 and transferred to the Navy on 9 November 1899, outfitted for naval use at Cavite; and commissioned on 20 November 1902. Lieutenant- Commander A. G. Winterhalter was placed in command.
Sailing from Manila 26 December 1902, ELCANO with two other former Spanish boats, VILLALOBOS and POMPEY, inaugurated the Yangtze River Patrol. Based on Shanghai from February 1903, their mission was to protect American citizens and property, and promote friendly relations with the Chinese. On 20 October 1907, ELCANO returned to Cavite and was placed out of commission 1 November 1907.
Recommissioned on 5 December 1910, ELCANO went back to the China Station in March, 1911 and was based at Amoy until World War I. Recalled to Manila in April 1917, she patrolled off Mariveles and Corregidor until the end of the war. ELCANO returned to Shanghai 3 February 1920 to rejoin the Yangtze Patrol. Two days later, she made a short dash southwest to search for the ill-fated British tanker BRISBANE. She inquired throughout the Chusan Archipelago, and found much of the BRIABANE'S oil in the natives' possession but no trace of the tanker, her 45 men or the captains wife.
The ELCANO was reclassified PG-38 on 17 July 1920 and became well known during 8 more years of service in Chinese waters. In July 1921 she helped land Marines at Ichang and, as a station ship, protected American lives and property there until September 1922. She continued to patrol from her base at Shanghai, obtaining information on political conditions, visiting ports where American citizens were located, and sending her officers ashore to confer with local officials and American consuls.
During the Chinese revolution in 1926 and 1927, ELCANO's personnel required immense tact, patience and judgment in facing the turmoil of the times. She transported refugees from the interior and convoyed concentrations of those fleeing the lawlessness of the war-torn country. On 24 March 1927, a major clash occurred at Nanking where the American Consul General and others were besieged on Socony Hill, where they had congregated for safety. ELCANO joined in laying the barrage around the hill to prevent wholesale massacre.
In November 1927 ELCANO was given new status as receiving ship at Shanghai for crews assembled for gunboats under construction. She was decommissioned 30 June 1928, and used as a target until sunk 4 October.


ADVANTAGES/DISADVANTAGES:
The Gunboat was outdated. She was small, lightly armed and unarmored. She was not fit for action in a fleet battle.
---
TECHNOTES:
| Classification | | First Class Gunboat |
| --- | --- | --- |
| Keel Laid | | March 3, 1882 |
| Launched: | | 1884 |
| Commissioned | | 1885 |
| Hull | | Iron |
| Armament: | | Three 120 mm Hontoria Breechloading guns |
| | | Two 25 mm machine guns |
| | | One 11 mm machine gun |
| | | Two Schwartzkopf torpedo tubes |
| Contractor: | | Forges et Chantiers de la Mediterranée, (La Seyne, Tolon, France). |
| Length: | | 48 m |
| Beam: | | 7.8m |
| Draft: | | ? |
| Displacement | | 560 tons |
| Complement: | | 115 men |
| Engine Type: | | Engines generated 660hp. |
| Boiler Type: | | ? |
| Speed: | | 10-13 knots |
| Coal bunker capacity: | | ? |
| Normal coal supply: | | ? |
| Armor: | | Unarmored |
| Cost: | | 227,490 Pesetas |
---
Rear Admiral F. Fernando de Bordeje y Morencos. Crónica de la Marina Española en el Siglo XIX, 1868 - 1898. Tomo II. Ministerio de Defensa. Madrid. 1995.
Agustín Ramón Rodríguez González. Política Naval de la Restauración, (1875 – 1898). Editorial San Martín. Madrid. 1988.
Dictionary of American Naval Fighting Ships, Vol. II p 334. http://www.uss-salem.org/danfs/patrol/pg38.htm
---

Support this Site by Visiting the Website Store! (help us defray costs!)

---

We are providing the following service for our readers. If you are interested in books, videos, CD's etc. related to the Spanish American War, simply type in "Spanish American War" (or whatever you are interested in) as the keyword and click on "go" to get a list of titles available through Amazon.com.
---
Visit Main Page for copyright data