---
Lt. John Blandin
of the Battleship MAINE
Writes Home
(courtesy of Jay Lee)
---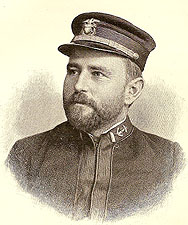 Lt. John Blandin
---
Please Visit our Home Page to learn more about the Spanish American War
---
Click here for the obituary of John Blandin
---
General:
The following letter was written by Lt. John "Jack" Blandin of the Battleship MAINE the day following the sinking of the MAINE. Blandin was officer of the deck when the explosion occurred. Though he survived the initial blast, Blandin died approximately five months later, never having recovered from the shock and horror of his experience.
The Letter:
SS City of Washington
Havana, Cuba, 1898
February 16
My darling,
You have read of our wreck, and I suppose Dr. Greer has informed you that I am all right. I was on watch when the explosion took place. A more complete and sudden wreck one can't imagine. All of us left alive climbed onto the poop, and then looked around to see in anything could be done. We pulled out the wounded where we could. The wreck sunk and rested on the bottom, and was soon burning fiercely. When the Captain saw that nothing more could be done, he gave the order to abandon ship. We had two boats left that would float, and the Spanish man-of-war sent 5 boats, the steamer Washington sent 2 boats, and we got all who were alive into them, 80 men and officers were saved, out of 340. So we lost 260 men, or near that. About half of those saved are badly injured, and some will die. We all went to the American Steamship "City of Washington", of the Ward Line, and were treated with every courtesy. I have just learned that we are to go to Key West this afternoon, and suppose I will get home soon.
Two officers were lost, Jenkins and Merritt, both good friends of mine and fine fellows.
As for myself, I am uninjured. I lost everything except the clothes I have on. Tell Jack that I had a letter to him finished, but it was lost in the wreck.
Thank God, my darling that my live was spared again. Lots of love to my darlings from you own
Jack
No one can tell what caused the explosion. I don't believe the Spanish had anything to do with it.
Jack
Don't publish this letter.
---
Bibliography:
Letter provided by Jay Lee, descendant of John Blandin.
Sigsbee, Capt. Charles D., The "Maine" – An Account of Her Destruction in Havana Harbor. (New York: The Century Co., 1899). (Source of Image)
---

Support this Site by Visiting the Website Store! (help us defray costs!)

---

We are providing the following service for our readers. If you are interested in books, videos, CD's etc. related to the Spanish American War, simply type in "Spanish American War" (or whatever you are interested in) as the keyword and click on "go" to get a list of titles available through Amazon.com.
---
Visit Main Page for copyright data