Spanish Cruiser INFANTA MARIA TERESA's Bow Turret Lantern
Contributed by Nick Lore
---
Please Visit our Home Page to learn more about the Spanish American War
---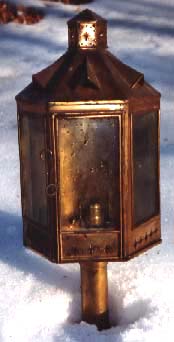 This is an image of the original bow turret battle lantern from the Spanish cruiser Infanta Maria Teresa, the flagship of the commander of the squadron, Admiral Cervera which was destroyed in the Battle of Santiago, Cuba on July 3rd, 1898 after an engagement with the American fleet.
The lantern has a height of 18 inches, a diameter 6.6 inches, and is constructed of brass or a brass and copper composite, and what may be gold plating since it remains untarnished after more than 100 years. The electrical wiring, off-on switch, and three glass panels are intact. Engraved on the back of the lantern is the inscription:
"BATTLE LANTERN TAKEN FROM THE FORWARD
TURRET OF THE SPANISH FLAGSHIP MARIA
TERESA BY NAVAL CADET CYRUS W. COLE, U.S.N.
AFTER THE BATTLE OF SANTIAGO JULY 3RD, 1898."
---
Click here to visit the website bibliography
---
Support this Site by Visiting the Website Store! (help us defray costs!)
---
We are providing the following service for our readers. If you are interested in books, videos, CD's etc. related to the Spanish American War, simply type in "Spanish American War" (or whatever you are interested in) as the keyword and click on "go" to get a list of titles available through Amazon.com.
---
Visit Main Page for copyright data