---
Maj. Gen. Fitzhugh Lee
(1835 - 1905)
By John Kellbach
---
Please Visit our Home Page to learn more about the Spanish American War
---
General:
Former Confederate Major-General Fitzhugh Lee was the consul-general of the United States to Havana, Cuba at the outbreak of the Spanish-American War. During the war he commanded the VII Army Corps.
Biography:
The son of a U.S. (and later Confederate) naval officer, Lee was born in Virginia in 1835. He attended the West Point Military Academy from 1852-1856, flirting with expulsion for pranks before graduating 45 out of a class of 49.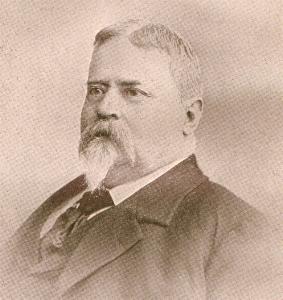 Following graduation, Lee served as a cavalry officer in Texas for two and a half years before being appointed an assistant instructor of tactics at West Point in late 1860. While in Texas, Lee saw his first combat in battles against Indians. He was seriously wounded in a skirmish on May 19, 1859.
Lee's tenure as an instructor at his alma mater would last only 6 months. Like many Southern officers (including Lee's famous uncle, Robert E. Lee) he resigned his commission in May, 1861 and was named a first lieutenant in the regular Confederate army shortly after.
Promotion in the Confederate army was fast for young Lee (far faster than it would have been in a peacetime US Army!); he rose to lieutenant-colonel in August, then to brigadier-general the following July. His highest rank, major-general, would be attained in September, 1863; after achieving his greatest notoriety in the Battle of Chancellorsville where, leading the only full brigade of Confederate cavalry, he guarded the Confederate's flanking march around Union General Hooker's exposed right wing.
Lee saw much more action throughout the war. In September, 1864 he was wounded again and out of action for four months. By the time of his return, however, the Southern fate was all but certain. Lee surrendered on April 11, 1865.
Following a short stint as a Union prisoner, Lee turned his efforts to farming, taking pride in his success in the endeavor. In addition to farming Lee wrote several books in this period. He also began improving his political skills. Lacking any boastfulness and quick-witted, with an excellent sense of humor, the above-average soldier was an even better politician. The unusual mix of abilities would serve him well.
The public arena beckoned a return in 1885, as Lee's famous name and popular personality gained him election as governor of Virginia. Though his single term was relatively uneventful, it served to cast him in the political arena. In 1893 he was defeated for the Democratic nomination to the United States Senate. The following year hewrote his finest book, a biography of Uncle Robert E. Lee.
Democratic President Grover Cleveland, battling the continued economic woes of the 1890's, diplomatic troubles with Spain and England, and harsh congressional critics such as conservative Henry Cabot Lodge, appointed Lee consul-general to Havana in 1896.
Lee arrived in June to an island torn by civil war and mass poverty. Three weeks after his arrival he informed the State Department that Cuban rebels did not have the strength to drive the Spanish out, but that the Spanish were equally unable to subdue the rebellion. He railed against the Spanish tactics to suppress the rebels and fought for the rights of American citizens in Cuba (including some suspected by the Spanish of aiding the rebels and held captive in Cuba, such as crewmen of the filibustering vessel COMPETITOR, and Dr. Ricardo Ruiz de Ugarrio y Salvador, a naturalized American citizen).
Ironically, Lee won the praise of Cleveland's staunchest critics, who used Lee's strong stance against Spain as further fuel against the more benevolent President. Lodge wrote of Lee's "good sense and firm courage," while lamenting that Lee "was not sustained by the (Cleveland) Administration as he should have been."
December, 1897 saw more unrest in Havana. While much of the violence wasactually caused by the Cuban rebels (often directed toward American-owned sugar plantations), Lee's concern was chiefly the safety of Americans in Cuba, thus causing him to exaggerate the threat he feared from Cubans loyal to Spain. Lee requested a warship be ready in Key West in case violence erupted. The MAINE was ordered to Florida in January, and Captain Sigsbee maintained steady communication with the consul-general's office. Early that month, the situation appeared to Lee to have taken aturn for the worse. He sent a preliminary signal to Sigsbee, prompting him to ready hisship. Whether Lee felt he had over-estimated the danger or the situation calmed, he never sent a further call for the MAINE. President McKinley and Navy Secretary John Long, however, did order MAINE to Havana.
Though Lee was unnerved by the MAINE's sudden arrival when he had specifically advised against it's visit at that time, months later he would recall the arrival as "a beautiful sight and one long to be remembered." Perhaps this underscored his ownuncertainty of the situation. Adding to the uncertainty was the prospect of growingGerman influence in the Caribbean (which, some speculate, was McKinley's motivationin sending the MAINE to Cuba). Whatever the reasoning, late 1897-early-1898 saw Lee take a step back from his earlier blatant criticism of the Spanish. Proponents of Leein 1896-8 saw his actions as decisive and pro-American, leading nicely to the "splendid little war," while later critics would charge that his misreading of theCuban situation(which, some would believe was intentional) moved both sides closer to war.
In spite of Lee's misgivings, MAINE arrived in Havana on January 25. Lee and Sigsbee were treated to a bullfight by hosting Spanish officers as part of the "good will" visit. Underneath it all, however, was an undeniable tension. Washington soon began to realize that the presence of the MAINE would only serve temporary goals, and many wondered how long she should remain in Havana.
One of those who worried about overstaying his welcome was Secretary of Navy Long. Nearly the opposite of his fiery assistant, Theodore Roosevelt, Long openly considered pulling the MAINE out of Cuba. Upon that suggestion, Lee threw away earlier objections to the ships visit, and both he and Sigsbee strongly opposed withdrawing the MAINE, unless it was relieved by another warship. "Many will claimSpain demanded it should go," Lee wrote Washington," we are master of the situationhere and I would not disturb or alter it."
The explosion of the MAINE on February 15 suddenly changed everything. While McKinley and Washington moved closer to war by the day, Lee's chief concern was the safety and evacuation of Americans in Cuba. As threats and ultimatums grew more intense, Lee cabled the President for more time, stating that he could not assure the safety of all Americans by Tuesday, April 5, a deadline previously set for Spanish agreement to terms set forth by the White House. He requested McKinley delay any statements until at least Saturday the 9th. Under intense pressure McKinley stalled, delaying the message that would lead to war until Monday, April 11, a day after Lee's arrival in Florida.
Following his return to a hero's welcome in the U.S., Lee was commissioned major-general of volunteers and assigned the VII Army Corps. The appointment was largely political, as McKinley had made it a point to place a few well known former Confederate officers in key commands to unite the nation (Joe Wheeler was another). VII Corps trained in preparation of a major role in a fall offensive, though the war's quick end (quicker than many thought, that is) kept VII Corps from any action. Lee's logistical and planning abilities and previous military experience exhibited itself through the VII Corp's few health and administrative problems; problems which plagued many of the other army corps. After the war he commanded what amounted to an army of occupation in Havana and was charged with the restoration of order on the island.
Fitzhugh Lee retired a brigadier-general on March 2, 1901. He died four years later. Lee was buried in his U.S. Army uniform, which caused one ex-Confederate to say "What'll [deceased Confederate general] Stonewall think when Fitz turns up in heaven wearing that!"

---
Bibliography:
(As a service to our readers, clicking on title in red will take you to that book on Amazon.com)
Abbot, Willis John. BLUE JACKETS OF '98. Dodd, Mead and Co., New York,
1899.
Brands, H.W. THE RECKLESS DECADE. St. Martins, New York, 1995.
Freeman, Douglas Southall. LEE'S LIEUTENANTS. Scribners, New York,
1944.
Lodge, Henry Cabot. THE WAR WITH SPAIN. Harper and Brothers, New York, 1899.
Malone, Dumas. DICTIONARY OF AMERICAN BIOGRAPHY, Vol. VI. Charles Scribner's Sons, New York, 1933.
Nofi, Albert A., The Spanish-American War, 1898 . (Conshohocken, PA: Combined Books, 1996).
Trask, David F. The War With Spain in 1898. (New York: Macmillian Publishing Company, 1981).
---

Support this Site by Visiting the Website Store! (help us defray costs!)

---

We are providing the following service for our readers. If you are interested in books, videos, CD's etc. related to the Spanish American War, simply type in "Spanish American War" (or whatever you are interested in) as the keyword and click on "go" to get a list of titles available through Amazon.com.
---
Visit Main Page for copyright data