---
A Roster of the
35th Michigan Volunteer Infantry, Company D
Contributed by Nancy Petersen
---
Click here for a roster of 35th Michigan troops who were members of the Guy V. Henry Post, Camp #3, United Spanish War Veterans
Click here for a link to information on the Michigan National Guard in the Spanish American War
Click here for a brief history of the 35th Michigan Volunteer Infantry
---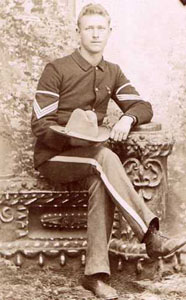 Sgt. Martin Paschal Elder of Company D, 35th Michigan Volunteer Infantry.
Elder was promoted to sergeant at Camp Mackenzie, Augusta, Georgia, on Dec. 7, 1898,
three days before the Spanish American War officially ended. Elder is shown in his sergeant's uniform.
---
General:
Below is a roster of the 35 Michigan Volunteer Infantry, Company D. This unit served in the continental U.S. during the war.
The Roster:
Officers:
John B. Haines, Captain, Dundee
Sylvester S. Zeluff, 1st Lieut., Dundee
Charles A. Jordan, 2d Lieut, Dundee
Sergeants:
John F. Woodard, 1st Sergt, Kalamazoo
C.F. Haines, Q.M. Sergt, Dundee
Frank S. French, Sergt, Dundee
William G. Drake, Sergt., Blissfield
Chas. R. Cahill, Sergt, Tecumseh
Andrew Arthur, Sergt. Victor
Corporals:
Bert O. Chapman, Corporal, Dundee
Martin P. Elder, Corporal, Petersburg [later promoted to Sgt.]
John W. Snell, Corporal, London
Conrad F. Herzog, Corporal, Maybee
Arthur K. Gould, Corporal, Milan
William Cavanaugh, Corporal, London
William E. Throop, Corporal, Adrian
Edward J. Mooney, Corporal, Northville
Myrt Terry, Corporal, St. Johns
Benj. S. Eggleston, Corporal, Jonesville
Carl W. Schafer, Corporal, Ida
Andrew Maurer, Musician, Adrian
Chas. E. Edwards, Musician, Dundee
Milton Mates, Artificer, Lulu
William L. Buck, Wagoner, Dundee
---
Bibliography:
Michigan Volunteers of '98, A complete photographic record of Michigan's part in the Spanish-American War of 1898. Official Souvenir (Published by G.F. Sterling and Co, Detroit, Mich., c1898).
Petersen, Nancy Elder - information and photo of Martin Paschal Elder
---

Support this Site by Visiting the Website Store! (help us defray costs!)

---

We are providing the following service for our readers. If you are interested in books, videos, CD's etc. related to the Spanish American War, simply type in "Spanish American War" (or whatever you are interested in) as the keyword and click on "go" to get a list of titles available through Amazon.com.
---
Visit Main Page for copyright data