---

Ben Love of the First Texas Volunteer Infantry Writes Home from Cuba
Contributed by Dale Johnson
---
Please Visit our Home Page to learn more about the Spanish American War
---
If you have additional info. on any member of this regiment, please contact us
---
Click here
to read the unit history of the 1st Texas Volunteer Infantry

Click here to read a letter from Irving Poole, of Company K, 1st Texas
Click here
for a roster of the 1st Texas Volunteer Infantry
---
General:
The following letter was written by Ben Love, an officer in the First Texas Volunteer Infantry to Charles Johnson, Southwestern University, Georgetown, Texas. The letter explains how the days of the men serving in the occupation forces of Cuba were spent.
Also, Love makes reference to the burial practices of the Cubans, and that he has photos of the scene that he will show those back home. Most likely, Love is referring to an open ossuary in Cristobal Colon Cemetery, which seemed to fascinate many of the American troops. It consisted of an immense mass of disinterred bones which existed in the cemetery.
Also, Mrs. Brooke was the wife of General John Brooke.

The Letter:
Buena Vista Cuba
Feb 15, 1899
Mr. Chas Johnson
Georgetown
Dear Friend
Yours of the 4th received several days ago but I have been so busy I have not had time to write to you. We are drilling one hour and a half in the morning and have dress parade in the evening. Then right after drill we have officers school of one hour then I have to conduct the non-commissioned officers school in the evening besides being a member of a general court martial, and half of the time on a board of survey, and from that you can see why I am kept busy. We hardly know when Sunday comes as every thing is the same only the drill is cut out. I am ashamed to say it, but I have not been to church over 5 times since I have been in the service. Well one reason is I do not like the Chaplain, as he is one of several hat thinks he is going to heaven and every one else to hell.
Everything in camp is dull, the same old thing over and over. Today is a holliday with us as one year ago the Maine was blown up, of course we all appreciate a day of rest because that is all about all half of them think of. I do not think of resting so much as I do doing my duty. We have a very strict Colonel and every thing has to be done exactly right or it will not be accepted at all. His name is Dwyer, a regular army man and of course he is dead on to his job. He is a fine man, all the officers like him. He treats every one alike. Well I guess you have heard enough of that and would like to have me ring [?] off –
Well Chas. I hardly know what to write, as I have forgotten what I wrote you in my last.
Mrs. Brooke (the Generals wife) invited the officers of the 1st Tex. To spend the evening with her one day each week, we all went over and had a real nice time. There were two Major & two Brig. Generals present and several young ladies, daughters of the different generals. We had a swell time of course. The band went over with us and furnished the music –
I would like to have been with you all when you were exploring that cave. I have been in several caves since I have been over here. People living in some of them. In all these forts there are caves used for hiding places but of course they were not natural. The caves that I have spoken of are in solid rock in the side of a large hill.
I think I told you of the way they care for their dead didn't I, will I have photo's of some of the schenes [scenes] in the cemetery, will show them to you when I see you.
Chas, the Cubans say we had a very cold day on the 14th, the wind was blowing very hard from the North & it was just a little chilly. The Cubans were all wrapped up in blankets, while we were very comfortable in our shirt sleeves. The waves broke over the tower of Morro Castle, and over the tops of houses around the shore in the City. It flooded he streets for several blocks but did not Kill or drown any one fortunately. At the beach in sight of our camp waves 40 and 50 feet high could be seen, and when the would break over the rock, it seemed tat they never would fall.
Well Charley I guess we will have to whip these black Cubans before long as it seems that they are determined to bring it upon themselves – I have a great deal more respect for a Spaniard than a Cuban…
There was a big to do at the Cristobal Colon Cemetery this evening, where the victims of the Maine are buried. I did not go over as I was not feeling well.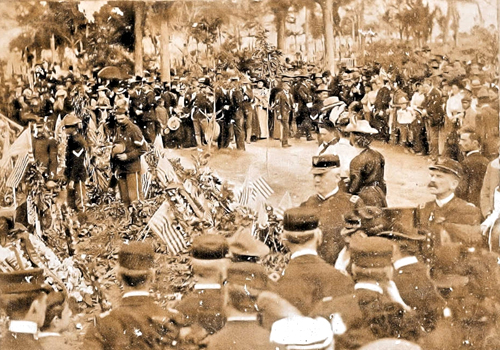 The ceremony for the victims of the MAINE at Cristobal Colon Cemetery on February 15, 1899
Say Charley was ever became of Claude Cain? where is he? Or do you Know? I have not heard o him since he was married.
Well as I have to answer several other letters tonight and it is nearly time for tattoo will close. Excuse this put [?] up as I did not Know hardly what to write ask me questions about things you want to Know and I will try to answer them.
Thanks for the papers. Write soon
Your friend
Ben C Love

---
Bibliography:
Clerk of Joint Committee on Printing, The Abridgement of Message from the President of the United States to the Two Houses of Congress. (Washington: Government Printing Office, 1899) Vol. 3 219, 494.
Huffines, Col. Alan C. - Image of the MAINE ceremony, February 15, 1899.
Statistical Exhibit of Strength of Volunteer Forces Called into Service During the War with Spain; with Losses from All Causes. (Washington: Government Printing Office, 1899).
Texas State Library and Archives Website
Wright, General Marcus J.,Wright's Official History of the Spanish American War.(Washington: War Records Office 1900) 335.
---

Support this Site by Visiting the Website Store! (help us defray costs!)

---

We are providing the following service for our readers. If you are interested in books, videos, CD's etc. related to the Spanish American War, simply type in "Spanish American War" (or whatever you are interested in) as the keyword and click on "go" to get a list of titles available through Amazon.com.
---
Visit Main Page for copyright data