---
Father William Henry Ironsides Reaney
(1863 - 1915)
By Patrick McSherry

---
Please Visit our Home Page to learn more about the Spanish American War
---
Father Reaney's ship, OLYMPIA needs your help!! Click here to learn how you can help!
---
General:
Father Reaney was the Chaplain of the Cruiser OLYMPIA, joining the crew shortly after the Battle of Manila Bay. For his service to the crewmen aboard ship, he was widely regarded by the members of the ship's crew.
Biography:
The details of William Henry Reaney's birth is a bit obscured by time. One account has him being born in Brooklyn, New York on July 21, 1863. Another has him being born at sea aboard the steamer "IRONSIDES." In either case, he was the son of a naval commander (from association with whom or from the ship on which he was born, the Chaplain would be given the name of "Ironsides"). Soon, the family moved to Detroit Michigan, but William would soon head back east to study theology at St. Mary's Seminary in Baltimore, Maryland. Reaney was a quick learner; so quick that he completed his course of study while still a year too young to be ordained. After staying at the Seminary and continuing his studies, William Reaney was ordained by Cardinal Gibbons at the Baltimore Cathedral in 1888.
In 1892, as the American Navy was being reborn after years of neglect, Father Reaney was appointed as a navy chaplain. Over the years he would serve on many different vessels, but was assigned to the USFS OLYMPIA shortly after the Battle of Manila Bay while the ship was still serving in Philippine waters.


This is a partial view of National Archives photo #43347, showing the officers of the OLYMPIA. Seated at left is Capt. Lamberton, with Admiral Dewey seated in the center. Standing second from the right is Father Reaney.
His appearance among the crew soon began to make itself felt. In the August-September issue of the OLYMPIA's ship newspaper, the Bounding Billow, Reaney's influence began to show among the crew. The newspaper states:
"The evening concerts inaugurated by Father Reaney of the OLYMPIA are a series of roaring successes (no pun is meant) and are working wonders on passing away the time, making everybody happy and the Father himself more popular if it is possible to do so. He has won the hearts of this crew as well as of all others with whom he has come in contact."
Also, apparently around this same time, some of the crew "confiscated" a piano at Cavite (i.e., they looted it), and carried it three miles back to the edge of the water and planned to take it out to the OLYMPIA for their own use. An unnamed officer from the ship, seeing it, decided to appropriate it for the officers' wardroom. As soon as the officer left, the men destroyed the piano rather than turn it over. Afterwards, according to one of OLYMPIA's crewmen "... the sailormen's disappointment was solaced by Chaplain Father Reamy [sic.], who bought a piano and presented it to the gun-deck [the crew]. That priest is truly paving himself a path to heaven by deeds of generosity. Every year he spends more than his pay on amusement for the boys." In fact, Father John Chidwick, who knew Reaney and who had seen service as naval chaplain himself - aboard the Battleship MAINE when the vessel exploded in Havana harbor - commented that Reaney would sometime turn over his entire pay the same day he received it to help families of sailors, even, on one occasion selling his watch to gain additional funds to aid his cause.
Reaney frequently helped to put together shows and similar activities aboard ship as a means of diverting the crew to keep up morale in the many hours of boredom. In one case it was noted that "...the OLYMPIA's crew stood to their duties while periodically enjoying another round of Burnt Cork Minstrelry gotten up by the chaplain, Father Reaney, from the crew." This, of course, refers to a minstrel show, a common form of entertainment in the 1890's and which was frequently a part of many shipboard shows, which generally also included skits, songs, comedy acts, and acts of athletic prowess.
Father Reaney emphasized athletics aboard ship, and it is claimed that Reaney, an adept boxer himself, introduced boxing on board warships (or perhaps, more properly, he organized what was already something that occurred aboard warships, albeit in an unorganized manner). Reaney's boxing prowess reputedly did not escape notice of fellow pugilist Theodore Roosevelt, who apparently boxed with Reaney himself. Reaney formed athletic organizations of all sorts including baseball teams, track teams, football teams wherever he served.
While in Manila, Father Reaney apparently rendered important service by communicating with the archbishop of Manila - no small take given the latter's adamant anti-American stance prior to the Battle of Manila Bay - and helping to settle the very unsettled situation following the battle and the fall of the City to the Americans in August.
When the OLYMPIA finally left its station in Manila, it took a victory cruise home, passing through the Suez Canal, and the Mediterranean Ocean. While the OLYMPIA visited Naples, Italy, Father Reaney traveled to Rome, where he was received by the Pope.
The chaplain would spend about eleven of his twenty-three years as a chaplain at sea, serving aboard ships such as the Battleships UTAH, CONNECTICUT and the VERMONT. On shore he served as Chaplain of the Brooklyn Navy Yard, among other posts, but his career ended in 1915 while he was Chaplain of the New York Navy Yard. Suffering from "acute stomach trouble," the chaplain was taken from the room where he lived at the Army and Navy Club by ambulance on October 17, 1915 to the Polyclinic Hospital. He died there a month later on November 18. His cousin, Father Lopez; and his sister, and a number of other priests were with him when he past away.
Father Reaney's funeral mass was celebrated at St.Patrick's Cathedral two days after his death. The event was attended by thousands, with thousands more remaining outside for lack of space. The doors of the Cathedral were guarded by companies of seamen and marines from the Brooklyn Navy Yard who served as an honor guard. The eulogy was delivered by Rev. John Chidwick, president of St. Joseph's Seminary and former chaplain of the Battleship MAINE. Of Father Reaney, Chidwick said, reflecting on the isolationist spirit and the growing tensions of war in 1915:

"There are some folk who would tear from the soldier and sailor the uniform they wear, who would demolish our statues of heroes, because that is their idea of peace. Those men may not look on Chaplain Reaney as you and I, but can there be anything more glorious, more eloquent, than a man who has two objects in life - one to work for God , the other for his country. For twenty-three years Father Reaney did that."
After the service, the casket bearing Chaplain Reaney's remains was escorted by five companies of sailors and three companies of marines in a procession down Fifth Avenue, past the Elks Club and Army and Navy Club on 43rd Street (both of which were well known to him well in life), before being taken to the funeral home to await train transportation to Detroit. His remains were laid to rest in Detroit, Michigan.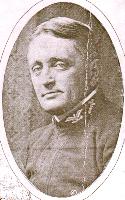 Father Reaney, in 1913
---
Bibliography:
(As a service to our readers, clicking on title in red will take you to that book on Amazon.com)
Bounding Billow (OLYMPIA's ship newspaper), August-September, 1898, Vol. I, No. 6.
Catholic News, The, November 27, 1915 (Courtesy of Russ Fisher). Mush of the above article is based on the obituary included in this article.
Cooling, Benjamin Franklin USS Olympia, Herald of Empire (Annapolis: Naval Institute Press, 2000) 109
National Archives Photo #43347 (see http://www.history.navy.mil/photos/images/h43000/h43347.jpg)
Tisdale, Lieu G. T., Three Years Behind the Guns. (New York: Grosset & Dunlap, Publishers, 1908) 246
---

Support this Site by Visiting the Website Store! (help us defray costs!)

---

We are providing the following service for our readers. If you are interested in books, videos, CD's etc. related to the Spanish American War, simply type in "Spanish American War" (or whatever you are interested in) as the keyword and click on "go" to get a list of titles available through Amazon.com.
---
Visit Main Page for copyright data