---
A Roster of the 157th Indiana Volunteer Infantry
---
Click here for a history of the 157th Indiana Volunteer Infantry
---
General:
The following is a partial roster of the 157th Indiana Volunteer Infantry. If you can contribute rosters of companies not listed, please email them to us!

---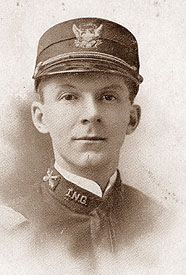 Colonel George M Studebaker, Commanding 157th Indiana Volunteer Infantry. In this photo, he is wearing the unifor of the Indiana National Guard.
---
The Roster:
Colonel George M. Studebaker
Officers:
Captain, Levi L. Denison.
1st. Lieutenant, Chas. V. Barr.
2nd Lieutenant, W. H. Denison
Sergeants:
1st Sergeant, D. W. Rohrbaugh
Quartermaster Sergt., F. Moore
Guy Farrington
P.J. Geeting
C.A. McCague.
Jas. Wallace.
Corporals:
F. Beidler.
H. Beidler.
George Getts
F. M. Hine.
C. H. McBride.
E. D. Willis.
Musicians:
D. Ackley
W. Beecher
Artificer: H. Thomas.
Wagoner: P. Auckney.
Privates:
Bateman, A
Bateman, H
Boorman, Frank
Borman, Wm
Brewer, D
Briner, A
Brown, M
Bryant, C
Carter, S C
Castleman, E
Clemens, J
Corn, C
Crystal, J
Delong, O
Diehl, O
Dunfee, J
Dunn, E
Edge, S
Funk, C
Geeting, R
George, F
Goodrich, L
Groat, W
Hael, O
Harper, C
Hitchcock, W
Homer, F
Huyek, C
Jennings, E L
Johnson, E
Kannel, L
Kinnel, C
Kollman, B
Langley, E
Latham, E
Lehman, H
Linder, R
Martin, E D
McKinley, O
Miller, A
Monahan, J
Newell, D
Nodine, A
North, F
Oberlin, C
Opdyke, D
Opdyke, H
Patchett, J
Penick, A
Peters, J
Pettit, H
Piery, L
Pulver, J
Resler, S
Rising ,C
Rohrbaugh, C
Schroeder, C
Shea, Wm
Singrey, G
Smurr, D
Smurr, W
Thomas, W
Vancoik, C
Waite, C
Wheaton , Willis

---
Company K ("Indiana Tigers"; Dekalb County)
Officers:
Captain - James F Larnum
First Lieutenant - Othello B. Rufner
Second Lieutenant - John J. Wolf
Sergeants:
First Sergeant - Morton Hilkey
Quartermaster Sergeant - John W. Brown
Benjamin F. Jolliff
Irvin E. Rader
Worthy Keller
Charles A. Picker
Corporals:
Charles T. Elsen
Philip Holman
A. McDonald
James Williamson
George W. Wolf
Charles Martin
Artificer: Feagler A. Wilson
Wagoner: William O. Leighty
Musicians:
Dick McNanny
Roy McDowell
Privates:
Albert Ankney
Samuel Ankney
John Basse
Charles R. Baird
Bert Baker
Frank Baer
Forrest Bradford
William Breno
Frank Brand
August Bohlke
Edward D. Borland
William Boorman
E. Emanuel Budd
James Budd
Weber W. Caldwell
Oza L.Callender
Charles Carey
Guy C. Clement
Morris Curie
George F. Collins
Frank Daum
George W. Deal
Frank Donley
Calvin Edwards
Jesse Elliott
Thomas Elliott
George W. Elliott
Charles Foltz
Fred Fox
William D. Funk
Roy C. Garrett
William Grindle
John Grear
Wilson Grogg
H.W. Grambling
C.C. Gringery
John H. Hall
C.H. Hathaway
George Henslinger
Simon Hirsch
T.H. Holderman
T. Hoodelmier
M.D. Husselman
Bennett Heist
J. Jones
George Jones
August Kolbe
Fred Krueger
F. E. Lane
W. G. Lahnum
L. J. Loveland
Clarence Luce
Hugh Maxwell
Leslie Maxwell
William J. Magen
Myron Markley
John Markwalder
Karl F. Miller
Frank Miller
Morton J. Mills
Edison D. Mosher
Clinton Nicholas
Jacob T. Nichols
Fred L. Niles
Melvin Olinger
Vinson Owen
Frank Reesch
O.L. Reasoner
Hugh Robbins
William Robinson
James S. Roseberry
Mark S. Ruple
Thomas Shreve
Oscar Smith
William Sowle
W. E. Timmerman
William Towne
Abner Trostel
T. Vanderbogart
Claude M. Waite
George T. Walter
Henry West
Hayden Wheelock
James White
Joseph D.Williamson
William H. Wolf
Arthur Woodcox
A. D. Yingling
L. L. Yingling
Company Mascot: Johnnie Johnson

---
Bibliography:
King, Nancy, Info. and photo of Col. George Studebaker.
McCague, Thom - Roster of Co. I (from the Waterloo Press, Waterloo, Indiana,Monday, May 10, 1898)
McCague, Thom - Roster of Co. K
---

Support this Site by Visiting the Website Store! (help us defray costs!)

---

We are providing the following service for our readers. If you are interested in books, videos, CD's etc. related to the Spanish American War, simply type in "Spanish American War" (or whatever you are interested in) as the keyword and click on "go" to get a list of titles available through Amazon.com.
Search:
Keywords:
---
Visit Main Page for copyright data